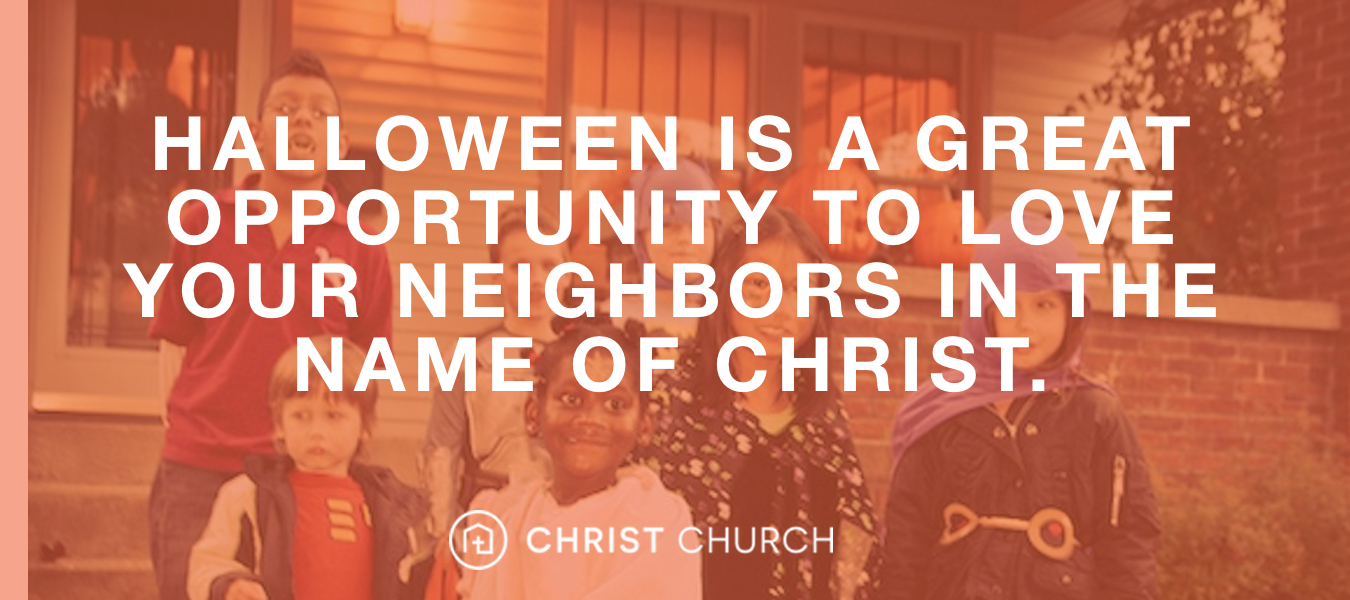 Loving Your Neighbors Well This Halloween
While Halloween is far from a Christian holiday it offers a great opportunity for you to love your neighbors in the name of Christ.
What are you going to do this year to love your neighbors well?
For years I thought Halloween was all about kids, costumes and candy. But, I've come to realize Halloween offers an incredible opportunity to make a meaningful connection with friends and neighbors. You can black out your house and protest the holiday or your can turn on your lights and welcome your neighbors into your home for the sake of Christ.
On Halloween you get to meet and interact with more of your neighbors than any other night of the year.
Think about it. What other day of the year brings people out of their homes like Halloween? People are everywhere. The summer heat is gone (kind of) and neighborhoods that are often quiet and impersonal bustle with activity.
And here's the best part: Most of your neighbors will walk right up to your house and knock on your door.
If you want to meet and enjoy your neighbors, Halloween is the night to do it!
So, what are you going to do this year to love your neighbors well? Here's three thoughts to get you started:

1. HAVE FUN
For the past few years our family rhythm has been to hang lights in our trees, decorate a "spooky" table with loads of great candy, get out the lawn chairs and just hang with the kids in the front yard.
Two years ago, a family on our street turned their entire downstairs into a fun haunted house for kids, and another family on our street got out their grill and cooked hot dogs for anyone who wanted one. I also know of one family who set up a bounce house in their driveway to draw their neighborhood in. It was a huge success, and a lot of fun.
What could you do this year to make Halloween fun? Be creative!

2. PASS OUT GREAT CANDY
Don't miss this step. When the neighborhood kids see you're passing out "the good stuff" they will absolutely love you. Halloween is not the time to pass out advice and toothbrushes. It's the time to bless your neighbors and their kids. Skip a few trips to Starbucks this week, and pass out great candy! You'll be glad you did.

3. THINK ABOUT NOVEMBER 1ST
Don't make Halloween a one and out event. Think of it as a start to other gospel opportunities. Think about ways you can be more involved with your neighbors throughout the year. Who can you pray for? Who can you invite over for dinner? Who can you serve? Who can you involve in family activities?
A successful Halloween is a great start to building bridges with friends and neighbors for the rest of the year.
Have fun this Halloween. Pass out great Candy. Learn some new names, and think about how you can love your neighbors well on this day, and on all days.